Detroit may be the Motor City, home of Motown and the Tigers' baseball team, but, the Detroit River running through it also is home of big walleyes!
The waterway stretches about 30 miles between Lake St. Clair and Lake Erie, the "Walleye Capital of the World."
Despite frigid temperatures, we boated lots of fish in three days from April 6-8, 2007 while pre-fishing for the FLW Walleye Tour event.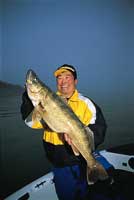 It should have been spring, but winter conditions prevailed. The warmest day reached 34 degrees. Snow fell each day driven by 25-mph winds. Water temperature fell from 38 degrees to 34 degrees.
The severe cold front that socked the Midwest caught Detroit by surprise in the days before the event.
"I mowed my grass on Tuesday (April 3)," said Mike Mink, a Ford Motor Co. worker, local tournament angler and former charter captain, who was our host. "It was 75 degrees."
River Holds Big Walleyes Early
Walleyes prefer moving water to spawn, so the Detroit River gets crowded with big walleyes through the month of April as fish move upstream from Lake Erie and downstream from Lake St. Clair to lay eggs.
We were limited to fishing Michigan waters due to tournament rules forbidding transport of live fish back and forth from Canadian waters and the states, due to the presence of viral hemorrhagic septicemia, a virus affecting many game species, including walleyes.
Ice covered the boat ramps the first day. Water temperatures were at the highest of the trip, and fish were most active. We caught 18 walleyes, including two weighing 6 pounds each. The fish were staging to spawn on flats along the river where the rushing current slowed.
We used 5/8-ounce Jumbo Fuzzy Grubs, which we dressed with plastic Ringworms and stinger hooks. We used them to slip-jig with the current downstream.
Continued cold on day two saw water temperatures drop 2 degrees. We caught seven walleyes, including one that weighed 7 pounds and one that weighed 6 pounds.
Day three saw big fish disappear as water temperature dropped another 2 degrees. Still, we caught a dozen smaller fish up to 20 inches — all were caught jigging.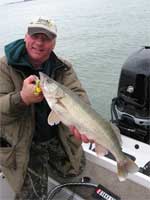 Try Hand-Lining
We tried hand-lining, a system developed at Detroit to handle the extreme current. No fishing rod is used. It's a three-way rig using wire line and floating Rapalas attached to two trailers above a 1-pound weight attached to a dropper line. The boat is moved upstream against the current as the fishermen use their hands to pump the weight up and down. The lures dart forward and back. The water was too cold and the fish were too lethargic to respond.
Mink said the walleye run lasts through April into May. After that, resident walleyes remain in the river while others travel back to the lakes. Add the Detroit River to your list of places to try. It's a great alternative when wind is whipping Lake Erie.
By the way, Mark Meravy of Shorewood won the FLW Walleye Tour event at the Detroit River with a four-day total of 18 fish totaling 76.38 pounds.
Keep up with the latest fishing tips and stories at Guide Outdoor. Be sure you visit Sportsman's Guide for an assortment of fishing gear.
Ted Takasaki and Scott Richardson write a weekly column for sportsmansguide.com. Ted has many fishing achievements, including a victory at the 1993 Mercury Nationals and the 1995 Professional Walleye Trail Top Gun award. He reached the pinnacle of both angling and business when he was named PWT Champion in 1998 and president of Lindy Little Joe, Inc., of Brainerd, Minn., a year later. (Ted's sponsors include Ranger Boats, Mercury Outboards, Pinnacle Rods and Reels, Bottom Line Electronics, Minn Kota, Stren, Normark, Flambeau, Master Lock, Gamakatsu, Aqua Vu and Nautamatic TR 1.)