Melissa Ray is your every day high school student. She enjoys hanging out with friends, going to the mall, and all the other things girls her age do.
But Melissa, my daughter, is also different from her classmates, Melissa enjoys hunting all types of game!
In 2005, the 15-year-old Berthoud, Colorado, native hunted cow elk at a private ranch near Craig in Colorado thanks to an essay contest she entered through Colorado Division of Wildlife.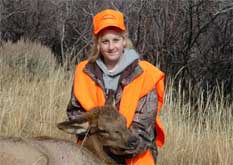 Melissa harvested a cow elk on her first morning of hunting in Colorado.
She ended up harvesting a young cow on the opening morning. From the smiles Melissa shared with everyone that helped her harvest her cow, you would have thought that she had taken a new record book bull or something!
Melissa Hunts Elk Hard
But this wasn't Melissa's first elk hunt. Two years prior to this hunt, Melissa learned to hunt elk the hard way. She hunted with her dad and my husband, Todd Ray (of www.justshootn.com,) for bull elk. They started out backpacking into an area at about 10,000 feet elevation; they spent several days hunting in this extremely tough area. The last day of the hunt Todd heard from a buddy about a smaller bull that had been regularly coming into a pond. Thus, the last night of the season Todd set Melissa up on the edge of the pond, and sure enough just after 5 p.m. the bull came in to the pond. Melissa made a great shot at about 75 yards, harvesting her first elk a nice 3×3 bull.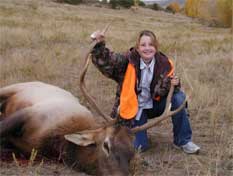 At age 13, Melissa took a 3×3 bull elk on her first night of hunting by a pond.
What makes it even more special is that just prior to this elk hunt she had one of her fingers partially amputated in an accident at school. So she was hunting with a finger that was very sensitive to the weather and any accidental bumps! This shows Melissa's dedication to her sport, she wouldn't have let anything stop her from going hunting with her dad.
Hunts Mule Deer, Too
Melissa isn't a stranger to mule deer, either. On her first mule deer hunt, she hunted hard with her dad. Not having seen any bucks in several days of hunting, on the last night of the season while sitting watching a small meadow as the snow started to fall, Melissa spotted two smaller bucks coming through the trees. She and her dad each fired and both harvested a deer!
It took a couple more years for Melissa to draw another deer tag in Colorado, but this would turn out to be a very good year for her, and another "Proud Dad Moment" for Todd.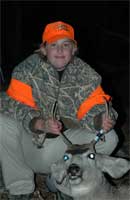 Melissa and her first mule deer.
The 2005 mule deer season was like most others, opening day comes and goes and nothing special other than Melissa and Todd spending some valuable "Father Daughter Time" together. On the third day of the season, the weather took a turn, and it got cold and the snow started to fly.
Todd took Melissa out of school for the day in hopes that the weather would get the deer moving a bit, and it did. Melissa watched a 3×4 bed down not 80 yards from where they were set up to watch a small clearing. Todd asked Melissa several times if she wanted to take the 3×4 and each time Melissa told him that the buck wasn't big enough.
At about 2 p.m., a large 5×5 came strolling up the small ridge, Todd spotted the deer and quickly got Melissa ready to take a shot, but the scrub oak on the hillside was too tall for Melissa to see over. After several tense moments, the deer moved down a small draw and started up the other side. The deer then made the mistake of stopping to look up at them. Melissa then made a great shot at about 100 yards with her .257 Weatherby Mag., dropping the deer in his tracks.
As they got closer to the deer Todd told Melissa that there wouldn't be any ground shrinkage on this buck. Melissa was all smiles and Todd was having another one of those "Proud Dad Moments," too. Well this buck ended up being bigger than any deer that Todd has taken! Melissa is always more than happy to point this out when talking about deer hunting with her dad.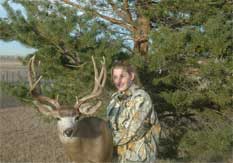 Melissa and her nice 5×5 mule deer.
Hunts Spring Black Bears
In the spring of 2006, Melissa got the opportunity to go with her dad on a spring black bear hunt in Canada. They were to meet several others at the bear camp, two of which were their friends, Shane and Melinda Nixon. Melinda would also be hunting bear for her first time. The girls spent their off time talking about all the things teenage girls do, but when it came time to go hunting, both girls were all business.
Todd was not hunting this year so that he could spend the time with Melissa in stand. This was important to Todd as bear hunting is his passion, but for him to get to share this time with his main hunting partner and daughter, meant more to him.
The first night in stand there were no bear sightings, but lots of bugs and I mean lots! Things got more interesting the second night. Melissa and Todd were in a tree blind that was a bunch of 2×4's put together between several trees to make a platform. Things got a little exciting around 5 p.m. when the front of the blind decided to give way! Melissa's gun was leaned against the front. The entire front wall went crashing to the ground, luckily it wasn't very far, and all the branches used to camo up the front cushioned the fall and no damage was done, but there was a lot of noise.
Melissa was discouraged by the noise. Todd reassured her that it would be alright. The bugs were extremely bad this night as well. Melissa had on three bug suits trying to keep the little black flies out. The 16-year-old is really down at this point, the bugs are really bad, and she is totally convinced that with the noise that was made when the front of the blind fell, — that all the bears had been scared away.
Aims Her .308
However, about an hour later, to her surprise in comes a bear to the bait. Todd prodded Melissa and told her to quietly look up. Melissa looked up and sees her first bear; later Melissa said that seeing that bear was one of the neatest things she has ever seen. After watching the bear feed for a few minutes, (what to Melissa seemed like hours), and to make sure there were no cubs, Todd told Melissa that if she wanted this bear then she should get her gun and get ready. Without hesitation, she told Todd that she wanted this bear.
Melissa pulled back all her head masks and put her .308 on the front rail of the blind (now reinforced and tied into place). She took aim and made a great shot at about 40 yards. The bear did a summersault and took off, but only went about 20 yards and was down for good.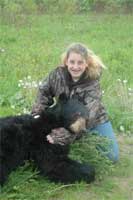 Melissa and her first black bear.
After about 30 minutes, they got down and went to find Melissa's bear. Todd couldn't have been more proud of his daughter. She had just harvested her first bear and Todd was there to share this time with her. It was picture time and you couldn't get Melissa away from the bear; she could not believe how soft they were, and was so proud that she wouldn't leave the bear!
Todd told Melissa how proud he was of her and that it meant a great deal to him that they could spend this quality time with each other, sharing something that they both enjoy.
Melissa had many other hunts that were unsuccessful in harvesting animals, but very successful in the quality time that she gets to spend with her dad and sometimes with me. Melissa said that the harvesting of the animal is a bonus in the hunt, and that sharing time with her family is by far more important and she wouldn't miss these times for anything.
To make some of the same hunts as Melissa, contacthttp://www.justshootn.com/
For a fine selection of Big Game Hunting gear, click here.