Boca Grande may get the lion's share of tarpon glory in Florida, but Tampa Bay has a very good tarpon fishery of its own, with way less of a crowd, and no controversy whatsoever.
Nor are our tarpon in Tampa Bay concentrated in a single pass — they're spread out all over the bay. Sometimes they come in around the bridges as early as late February and stay until mid-October. And while the Bay may not have the numbers of fish that are found in Boca, neither does it have the circus atmosphere of the conga line fishery that is Boca Grande.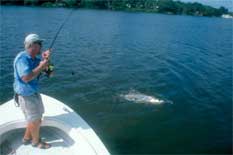 Capt. Chet Jennings bends the rod in the Palm River south of Tampa.
Tarpon fishing on the flats is more of a random occasion on Tampa Bay, similar to sight fishing for cobia. Certain conditions are a prerequisite for my tarpon outings — mainly light winds and clear water. Another option is to fish live baits or anchor around the bridges, but I don't have the patience for it. I prefer to hunt for silver kings in shallow water where I can see them, casting artificials to rolling fish. Instead of planning a tarpon trip, I merely carry tarpon tackle all the time, and when conditions permit, I go tarpon hunting.
Most Fish On The Flats
Most of the tarpon I encounter are less than 100 pounds, and I usually find them in shallow water on the flats. Here, heavy spinning tackle will suffice. Rods and reels suited for 20-pound to 30-pound-test monofilament, rigged with 60-pound to 100-pound leaders, and very stout hooks, will do the tarpon trick.
Knowing where the tarpon are is a matter of history. If I see some fish in a certain spot, I make a mental note of that. Then, when I find a calm morning with no wind and clear skies, I will look for tarpon at that spot. Even on the best days, the sight-fishing window is usually small. When the sea breeze picks up late in the morning, it's time to fish for something else. Tarpon fishing in shallow water on the weekends is practically impossible because boat traffic puts the fish down, and down they usually stay.
The lure I have my best luck with is a 1/2-ounce RipTide jig head rigged with its 4-inch white shad tail. This combination is good for long accurate casts, and the hook is plenty stout and sharp. Casting to tarpon is much the same as for cobia — the lure has to pass close to the nose of the fish. Neither fish will run a bait down from more than three or four feet away.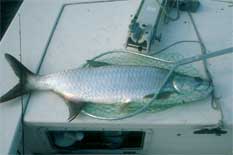 Here's a baby tarpon from Apollo Beach.
For laid up fish, I like to plop the lure down 10 feet beyond and then crank it into his line of sight. If the fish are rolling, I try to hit 'em in the face. I have caught one or two tarpon blind casting, but it's basically unproductive. Every time I make a blind cast, a fish rolls within range and I miss the opportunity.
Strike Back Hard
When a tarpon strikes, the idea is to strike back, and strike back hard! This is one of the occasions where a jaw-breaking hook set with a stiff rod is desirable. Take a close look at the structure of a tarpon's mouth and you will understand why. It's like trying to set a hook in a basket of bone.
Sink a hook into any tarpon and it will instantly leap for the sky. How a fish that looks so much like a carp in chain mail can get so much air is beyond me, but they can sure fly! A natural reaction to jumping fish is to raise the rod tip. That may work with small fish, but with tarpon the size of railroad ties, it's a mistake. Experience tarpon anglers lower the rod tip and bend at the waist — aptly called "bowing to the king." The idea is to prevent the fish from falling on a taut line and breaking off.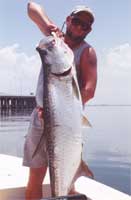 A big Gandy Bridge tarpon. (Photo courtesy of Capt. Matt Larsen)
After the jumps, relentless pressure is required. Give the fish a short rest, and he'll make you pay for it with another hour of pulling and jumping. Keep the pressure on him and keep him out of breath, and you have a fighting chance of getting the fish to the boat before he chafes through the leader. Reel down on the rod and pump the fish back up and you can beat most Tampa Bay tarpon before they break off.
Small blue crabs, threadfin herring, ladyfish, and large pinfish are the best natural baits. They can be fished under a float or free lined. A stout, well-pointed circle hook size 5/0 to 8/0 is preferred for silver kings. Cut bait is also effective — tarpon will eat chunks of ladyfish or mullet.
If there is a more memorable moment in inshore fishing than the sight of a leaping tarpon or the feel of that much power bending the rod and pulling drag, I have yet to experience it. And here on Tampa Bay, it's a quest within easy reach of the average angler who has a boat and plenty of patience. Prime time for tarpon on Tampa Bay is generally April through August.
For a fine assortment of fishing gear, click here.
Captain Fred Everson has been a licensed fishing guide on Tampa Bay in Florida for 13 years. He has also written three books, and is a 20-year active member of the Outdoor Writer's Association of America. You can visit his website for more information at http://tampabayfishingguide.com/