Like the escort warships protecting an aircraft carrier in a battle group, several tiny orange "ships" spread out into a "V" behind our boat.
With three rods holding lines on each side of the boat, Joe Farkas rigged these orange planer boards to cut through the water at various angles and distances from the boat. Dangling about 20 feet to 30 feet beneath each board, a 5-inch live shad tempted striped bass in this cove.
Since 1980, Farkas, of Joe's Striper Guide Service, has guided for stripers on Beaver Lake near Eureka Springs, Ark., which is about 180 miles northwest of Little Rock. Formed by the damming of the White River, the 28,220-acre lake wanders 70 miles through the Ozark Mountains of northwest Arkansas. The lake averages about 60 feet deep, but some holes plunge to more than 220 feet deep.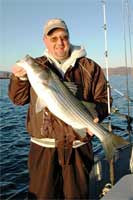 Joe Farkas shows off a striped bass he caught on Beaver Lake near Eureka Springs, Ark. (Photos by John N. Felsher)
Shad Main Striper Forage
"Threadfin shad are the main forage species for striped bass in Beaver Lake," Farkas said. "I catch my own shad with a cast net and like to drift baits at different depths to cover everything from almost on the surface to about 30 feet deep. I free-line some lines below balloons and attach some to planer boards. With some, I rig small weights to get baits down deeper until I find out where the fish want to be."
Besides guiding the lines to the side of the boat, planer boards also served as strike indicators. Sometimes, a planer board acting erratically or bobbing beneath the surface indicated a subtle strike. Sometimes, fish ripped the line off the reels in mighty runs. When a big striper gulped a shad, the line detached from the planer board, which floated to the surface.
David Sikes, outdoor editor for the Corpus Christi, Texas, Caller Times struck first, fighting a silver and black-lined beast to the boat. Sikes, Brent Frazee, outdoor editor for the Kansas City Star, and I took turns manning the rods and fighting fish as Farkas operated the trolling motor to pull baits over the honeyhole.
In about four hours, we caught and released about eight fish with some approaching 20 pounds.
Fish Average 15 Pounds
"Stripers don't reproduce naturally in Beaver Lake, but the lake has been stocked with about 200,000 stripers a year since 1967," Farkas said. "The average striped bass runs about 15 pounds, but it's not uncommon to catch 20- to 30-pound fish. It's a real trophy fishery. At any time, we can catch a 30-pound or bigger fish. The biggest I've ever caught weighed 48 pounds. The lake record is 57 pounds."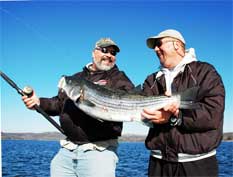 John N. Felsher (left) and Farkas hold up a nice striper. (Photo submitted by John N. Felsher)
In the extremely clear water, fish can see baits at great distances. Sometimes, fish rise from more than 100 feet deep to grab baits. In one cove, several fish herded baitfish to the surface.
"From fall through spring, I release a lot of fish," Farkas said. "In the summer, we are forced to keep the fish. We pull the fish up from such depths that they'll probably die. We pull some fish up from 100 feet down. People can catch up to three stripers per day with no minimum size limit."
With large stripers occasionally popping baitfish on the surface, we tried tossing topwater baits as we trolled, but the fish didn't respond. However, we picked up enough strikes with the live bait to make the morning interesting as we used the trolling motor to zigzag through the school.
Stripers Chase Bait To Surface
"Stripers can move in on baitfish anywhere in the lake," Farkas said. "They chase the baits to the surface. We throw a lot of topwater baits and baits that run just below the surface. We use a lot of Zara Spooks, Rapala Skitter Pops and Redfins. The lake has seasonal patterns, but we can catch fish all year long. During colder weather, we catch them closer to the surface."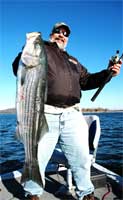 The author nailed this striper using a live shad for bait on Beaver Lake. (Photo submitted by John N. Felsher)
Stripers naturally live in saltwater, but enter freshwater rivers to spawn like salmon. Along the Atlantic Ocean coast, stripers swim up rivers in the spring when water temperatures hit about 55 degrees to 60 degrees. To remain vibrant, the semi-buoyant eggs must roll and tumble in light to moderate current. Using stock from the Santee-Cooper Lakes of South Carolina, where stripers do reproduce naturally in freshwater, many state agencies stocked the bass into landlocked systems to provide more sport for recreational anglers and to control shad populations.
To book trips, call Farkas at 479-640-2386 or send an e-mail to striperjoe@arkansas.net. On line, see the website: http://www.joesstriperguide.com.
Discover a fine assortment of fishing gear at Sportsman's Guide.