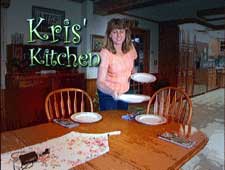 What are you going to do with all that bear meat? Make it burger night at your house try ground bear meat it is as good as it gets. Its Sloppy Joes with a twist make it ahead of time or make it just in time for your family dinner. It's fast and simple and gets you out of the kitchen in a hurry.
To make the Bear Burgers, you will need:
1 pound ground ground bear meat
14 1/2-ounce diced tomatoes
1 tablespoon onions (chopped)
2 teaspoons cornstarch
1 teaspoon oregano
1/4 teaspoon Season All such as Lawry's
10 slices pepper cheese or your favorite cheese
4 buns sliced
Cook ground bear meat and drain. In pan mix all ingredients except cheese and buns. Cook until hot. Place on buns add cheese and place underneath the broiler until brown.
Kris Winkelman's "Ultimate Wild Game and Fish Cookbook" is available for $10.00 plus $9.00 shipping & handling. To order, log onto www.winkelman.com or call 1-800-333-0471.