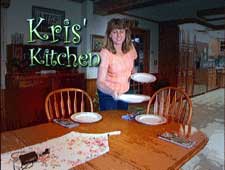 Eating heart-smart doesn't have to be boring. To prove it, try serving up this crisp, delicious salad. And here's a tip for serving any fruit or vegetable salad. When you refrigerate the food, put your serving dishes in the refrigerator too. Eating from a cold bowl just seems to add a refreshing snap to the ingredients.
Ingredients:
Fresh salad greens
3 ripe bananas (diced)
1/2 cup canned diced pineapple (in its own juice, drained)
1 1/2 cup canned salmon
1/2 cup celery (diced)
1 tablespoon chopped dill pickle
Low fat mayo to moisten
Salt to taste
Lemon slices
Mix bananas, pineapple and add salmon. Fold in remaining ingredients. Place on fresh greens and garnish with lemon. Place in refrigerator for15-20 minutes and serve chilled.
Kris Winkelman's "Ultimate Wild Game and Fish Cookbook" is available for $19.95 plus $7.00 shipping & handling. To order, log onto www.winkelman.com or call 1-800-333-0471.