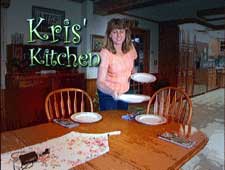 If the fishing has been good you will have plenty of filets to try this sandwich. It's very refreshing and something different. You can serve this at the cabin or in the finest kitchen, and you will not be disappointed.
Ingredients you will need:
Fish filets
1/4-cup pine nuts
3 garlic cloves
4 cups loosely packed basil leaves
1/4-cup olive oil
1/2-teaspoon Kosher salt
1/4-teaspoon pepper
1/2-cup parmesan cheese (shredded)
1/8-teaspoon crushed red pepper
2 cups seeded and diced tomatoes
Buns
Fresh lettuce
In a small skillet over medium heat, add nuts; cook 4 minutes until toasted — remove nuts. In same pan brown fish filets. While they are browning: combine nuts, garlic in food processor until minced; add basil, oil, salt and pepper. Process until well blended. Add cheese and blend until smooth; spoon it into bowl and add tomatoes, and stir. Place fish on toasted bun, spoon on pesto and serve with tomato slices and lettuce.
Kris Winkelman's "Ultimate Wild Game and Fish Cookbook" is available for $10.00 plus $9.00 shipping & handling. To order, log onto www.winkelman.com or call 1-800-333-0471.