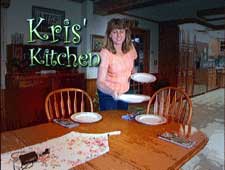 This recipe goes from hunting camp right into the finest kitchens. It always seems like we have a extra grouse or two in our freezer so this is a quick recipe served over rice and a nice green salad. Your family will think you have been in the kitchen for hours!
To make Skillet Grouse you will need:
4 grouse breasts (halved)
Garlic powder
1/2-Cup Game Coating Mix (Your Family Favorite)
4 cloves garlic
3 Tablespoons capers (drained)
8 Slices mild pickle peppers
1 Cup chicken broth
3 Tablespoons parsley (chopped)
3 Tablespoons butter
Olive oil

Sprinkle grouse with garlic powder, and shake grouse in coating mix. Fry in olive oil until both sides are browned; add garlic. Cook for 30 seconds, add capers and peppers cook for 1 minute. Add chicken broth bring to boil, reduce heat and simmer for 10-15 minutes until tender. Sprinkle with parsley and serve with rice.

Kris Winkelman's "Ultimate Wild Game and Fish Cookbook" is available for $10.00 plus $9.00 shipping & handling. To order, log onto www.winkelman.com or call 1-800-333-0471.