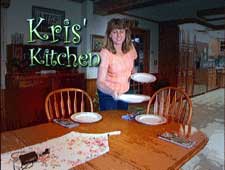 The first time I made this recipe was at a family fishing resort where the cabins had their own kitchens. When the troops came in from a long day on the water, the dish disappeared faster than a big northern can break 2-pound line. I promise your family will enjoy it just as much.
Ingredients:
1/4 teaspoon pepper
1/4 cup flour
4 walleye filet or white fish
1 1/2 cup milk
1 medium onion (sliced)
4 slices bacon
4 slices Swiss cheese
Combine salt, pepper and flour and coat fish filets on both sides. Arrange fish in a shallow glass baking dish and add milk. Place in a 400-degree oven; bake for 10 minutes. In two fry pans, brown bacon until crisp and simmer onions until tender. Crumble bacon on fish, add the onions and return to oven for 5 to 10 minutes. During the last 2 minutes, melt sliced Swiss cheese on top of fish.
Kris Winkelman's "Ultimate Wild Game and Fish Cookbook" is available for $19.95 plus $7.00 shipping & handling. To order, log onto www.winkelman.com or call 1-800-333-0471.