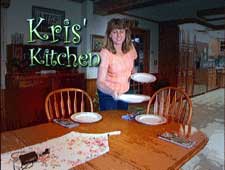 If you follow my recipes, you know that I try and keep the dishes simple yet delicious. Case in point: this sweet and sour pheasant. Your guests will think you slaved over it for hours, but we'll keep the ease of preparing it our own little secret. I like to serve this one over a bed of wild rice.
Ingredients:
1 whole pheasant
1 egg, beaten
1/2 cup corn starch
1 teaspoon garlic salt
1/4 cup chicken broth
1/4 cup ketchup
3/4 cup sugar
1 1/2 teaspoons soy sauce
1/2 cup cooking sherry
Cut pheasant into bite-size pieces. Combine corn starch and garlic salt. Dip pheasant into the egg, then the cornstarch mixture. Brown pheasant in cooking oil. Make sauce from remaining ingredients. Place pheasant in pan, cover with sauce and bake at 350 degrees until tender.
Kris Winkelman's "Ultimate Wild Game and Fish Cookbook" is available for $19.95 plus $7.00 shipping & handling. To order, log onto www.winkelman.com or call 1-800-333-0471.