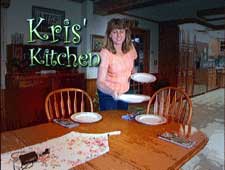 To make Wild Rice Pheasant Summer Salad you will need:
1/2-Cup Mayo
1 tablespoon Lemon Juice
1 teaspoon Curry Powder
2 Cups Cooked Wild Rice
2 Cups Cooked Pheasant (cooked & cut up)
2 Celery Stalks (cut in small pieces)
1/2-Cup Carrots (cut in small pieces)
1/2-Cup Onion (chopped)
2 tablespoons chopped pimentos
Salt and pepper to taste

Mix mayo, lemon juice & curry powder.

Add pheasant, wild rice, pimentos, celery, carrots, onion, salt & pepper.

Mix well, place in refrigerator for 1 hour. Serve in salad greens & cherry tomatoes, for garnish.




Kris Winkelman's "Ultimate Wild Game and Fish Cookbook" is available for $10.00 plus $9.00 shipping & handling. To order, log onto www.winkelman.com or call 1-800-333-0471.