Nestled in the Selkirk Mountains of Northern Idaho, Priest Lake is a campers' and anglers' paradise. The lake sits at an elevation of 2,500 feet above sea level, comprises 23,000 acres, and stretches 19 miles from end to end.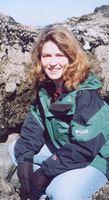 Sally O'Neal Coates
The lake lies about 25 miles due south of the Canadian border. Locals and longtime visitors like to tell you that Priest Lake isn't "on the way" to ANYwhere, and that's pretty much the truth of it. Its isolation makes it a destination, not a pass-through. The nearest metropolitan area is Spokane, Wash., about 80 miles away, and the nearest town is Priest River, Idaho, a village on Highway 2 some 25 miles south of the lake.
Recreation: Wet And Dry
People visit Priest Lake primarily for the watersports: boating, water skiing, fishing, and swimming. The area also draws birdwatchers and rock climbers in the spring, hunters and berry pickers in the fall, and snowmobilers in the winter. While water fun is the main draw, this beautiful, isolated lake has plenty to offer the landlubber as well.
Priest Lake is surrounded by over one-half-million acres of federal and state public lands. Trails range from the mild to the wild, from extended backpacking trips to nature walks the whole family can appreciate.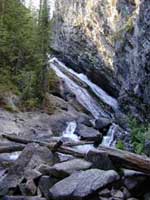 Lower Granite Falls.
Along the lake's west side, the Priest Lake Ranger District maintains 50 miles of trails; a booklet is available from their office at 32203 Hwy. 57, Priest River, ID 83856-9612. The lake's east side trail system is less developed, but just as rich. Here, state-owned lands fall under the jurisdiction of the Idaho Department of Lands; informal maps are available through their office at 4053 Cavanaugh Bay Road, Coolin, ID 83821.
Meeting The Granddaddies
My recent first-time visit to Priest Lake was an all-too-brief sample of the area. I didn't have time to take on Chimney Rock or Lookout Mountain. But I did have time to visit a grand grove of thousand-year old cedars and take a short stroll to a fine pair of waterfalls at the Roosevelt Grove of Ancient Cedars.
The grove and the waterfalls are located on the lake's west side. Some 40 miles north of Priest River and Highway 2 is the hamlet of Nordman. Just north of Nordman, Road 302 (a rough road, but easily traveled in a regular passenger car) forks off to the left. Follow 302 for 14 miles until you see the trailhead for Trail 266 on your right and the entrance road for Stagger Inn campground on your left. Turn left and park in the day use area by the campground.
Roosevelt Grove is an old-growth forest boasting cedars as old as 2,000-3,000 years. Some are over 10 feet in diameter and in excess of 150 feet in height.
Terrific Little Trail
Immediately adjacent to the parking area, on its west side, is the trailhead for Granite Falls Trail 301. The trail is really two trails in one, with both affording views of waterfalls courtesy of the North Fork Granite Creek. Those wishing only a short stroll can take an out-and-back walk to Lower Granite Falls; the entire walk is less than a quarter of a mile.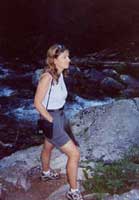 Author along Granite Creek.
The other trail is a little steeper, but only 1-mile long with an optional mile spur. It is a loop that begins on an old road, switchbacking up for views of both Upper and Lower Granite Falls. After half a mile, you can return down the road or climb an additional one-half-mile to Upper Roosevelt Grove, a lush (sometimes boggy) and peaceful stand of virgin forest.
For more information about hiking trails around Priest Lake, contact the Priest Lake Ranger District at 208-443-2512, http://www.fs.fed.us/ipnf/priestlake/, or the Idaho Department of Lands, Priest Lake Supervisory Area, at 208-443-2516, http://www2.state.id.us/lands/Areas/PriestLake.htm.
For general information about the region's attractions and amenities, the Priest Lake Chamber of Commerce can be reached at 208-443-3191 or 888-774-3785 or by logging onto Internet at: http://www.priestlake.org .
Sally O'Neal Coates is an outdoor travel and adventure writer who makes her home in Richland, Washington. Her books include "Hot Showers, Soft Beds, and Dayhikes in the Central Cascades" from Wilderness Press. She writes a weekly column for sportsmansguide.com.