The largest of all north Missouri rivers is the Missouri river itself (which, depending on which bank you occupy, is a north Missouri river or one claimed by south Missouri). The Big Muddy bisects the state east to west, dividing it into southern and northern sections. Almost all northern Missouri rivers flow into it, either directly or indirectly.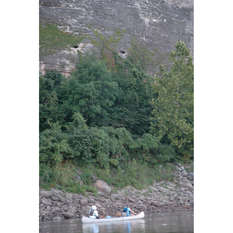 Canoeists below a looming
cliff on the Missouri River.
It's hard to beat a 15-mile Missouri River float from Taylor's Landing at Rocheport to Easley both for scenery and campsites. If the river is low, there are huge sandbars, ideal for camping and picnicking.
Growing up in north Missouri, I didn't know what clear water was until I was married and had children. The Big Muddy was four miles south, the Grand four miles west, and the Chariton a dozen miles east. The "old" Chariton ran through our farm near Bynumville and through my life. I hunted ducks on it and fished on it; and, before me, my grandfather fashioned fish traps, which were as exquisite as they were illegal. But he kept the family in fish, and the statute of limitations has long since expired as has Grandpa.
It's just that northern Missouri streams usually have different charms than the swift riffles of the Ozarks, although I spent a Memorial Day fly fishing on a small northeast Missouri stream, and caught a dozen or so largemouth bass where the water was clear enough that I could have been 200 miles south on an Ozark stream. It just takes a bit of detective work to ferret out these wade-fish streams north of the Big Muddy.
According to Conservation Department use studies, fishing accounts for over 70 percent of the 348,000 annual hours of activity on north Missouri streams. The fishing often is with live bait. The catfish is king in north Missouri, especially the channel cat. There also are carp, drum, and a variety of sunfishes, as well as crappies and sometimes largemouth bass. Some smaller streams in northeast Missouri have a few smallmouth.
In addition to boats and canoes, wade-fishing is popular. Some anglers wade northwest Missouri rivers for catfish, especially the Platte and 102 Rivers Tributaries Watershed. They fish deep holes with cane poles using worms or minnows as bait. Some northern Missouri rivers flow through state parks or wildlife areas, giving the boater a more scenic trip as well as accesses and other facilities.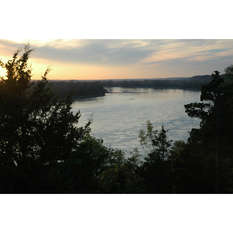 Missouri River at sunset.
Among them are Locust Creek which flows through PershingState Park, CuivreRiver through the park of the same name, and Cedar Creek that flows through a portion of a northern unit of the MarkTwainNational Forest.
Aside from a couple of outfitters on the Missouri River itself, the only north Missouri outfitter is Cuivre River Canoe Rental in Troy.
From northeast to northwest, here are a handful of North Missouri streams and what makes them unique:
Wyaconda River: Nicely-forested corridor. The section below Highway 61 to the Mississippi features scenic bluffs and wildlife, plus good fishing. The Conservation Department¿s Hannibal office (573-248-2530) offers good information.
Grand River: The ideal time to visit the Grand is spring or fall, when waterfowl are migrating. Several refuges attract thousands of ducks and geese, pelicans and other migratory birds, and the river is prime for wildlife viewing.
Locust Creek: Like the Grand, it is a waterfowl corridor during migration. It may have log jams, so be careful. It flows through PershingState Park where there is good access, but below that access is limited (the next feasible one is nine miles past its junction with the Grand, at Little Compton Lake Conservation Area.
Platte River: The Platte is a playground both for Kansas City and St. Joseph. It has many sandbars for camping. Much of the upper river has been channelized, but from Agency to PlatteCity, it is twisty and navigable most of the year, although access is limited.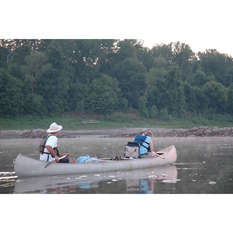 Closeup of canoeists on the Missouri, breached wing dike in background.
Missouri River: There are two canoe rentals on the Missouri River at River Refuge, Phone: 816-750-4695; 26803 Hwy 210, Orrick, MO 64077; and Mighty Mo Canoe Rental, Phone: 573-698-3903, 205 Central Street, P.O. Box 2, Rocheport, MO 65279.
For More Information
Check out these helpful resources:
"A Paddler's Guide To Missouri": Department of Conservation www.mdcnatureshop.com, cost is $5.10. It has several northern Missouri rivers described, but not all.
Years ago the Department of Natural Resources published "Canoeing In Northern Missouri," which listed 15 rivers, plus the Missouri and Mississippi rivers. It is long out of print and should be updated for new accesses and other information, but it's still an invaluable resource if you can find a copy.
Missouri Conservation Atlas And Gazetteer: Department of Conservation (same address as above). Cost $19.95.
Missouri River Navigation Charts: Order from the Corps of Engineers, Phone: 1-866-285-3219, Fax 402-667-8536, e-mail: gavinspoint@usace.army.mil.
Missouri Tourism has good information on sights and sites along the rivers. Visit www.visitmo.com for guides and other tips. The Department of Natural Resources has guides to all state parks: http://www.mdc.mo.gov/
Discover a fine assortment of Camping Accessories at Sportsman's Guide.