Erica W. from Tennessee writes to ask about salt blocks. "Do deer really go to salt, and if so why? And should I put out salt blocks?"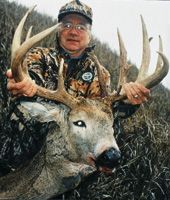 Dr. Dave Samuel
Actually deer will visit salt blocks year-round, but they do not make particularly good spots to hunt because the highest visitation rates (by far) are June and July. Deer go to these salt licks (either natural ones or man-made sites) for the sodium, and this is needed by lactating does and by bucks when they start growing antlers.
And deer will go a long way to get salt at that time. An interesting study was just done in my homestate of West Virginia, where telemetry-marked deer traveled long distances to go to pumping gas wells. It turns out that the salt brine at those sites overflows to the ground and the deer really like it. Again, they went at much higher rates in late spring and early summer. During the fall, visits to salted areas, or salt blocks, is very low.
If you want to put out salt, deer will use it in June, but check your state laws. Make sure it isn't considered a form of baiting. Since Chronic Wasting Disease hit, some states have changed their bait laws, so make sure that setting out salt is legal where you live.
For a selection of big game minerals and food plot seed, click here.
For a fine selection of Big Game Hunting gear, click here.
Dr. Dave writes a weekly column for sportsmansguide.com. If you have a question for Dr. Dave, e-mail your question to Dr. Dave in care of Tom Kacheroski, senior editor of www.sportsmansguide.com's content at tkachero@sportsmansguide.com. Dr. Dave studied deer for 30 years as a wildlife management professor at West Virginia University. In addition he has been a bowhunter for over 40 years, with deer being his main prey. He's also an outdoor writer and has been with "Bowhunter" magazine for 31 years.