There is no reason for the muskie fanatics in the North Woods to twiddle their thumbs waiting for open season.
The season starts early in the southern region of the muskie range. Join the folks in Tennessee, Kentucky, Illinois, Indiana, and Iowa — states that all offer greatmuskie fishing long before May or June. Think Cave Run, Kinkaid, Webster, and Spirit Lake. Melton Hill in Tennessee produced a trophy that stretched 53-3/8 inches on January 20, 2011 in open water. It was a potential state record released back to the water.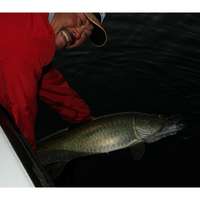 Ted Takasaki
Several smaller, lesser known lakes and reservoirs in those states produce just as well.
In fact, one February day Central Illinoismuskie guide Thad Hinshaw boated 24muskies by casting edges — edges of the remaining ice flow, that is — on a small reservoir called Spring Lake not many miles from his home near Bloomington — Normal,Ill.
"It was crazy," said Hinshaw whom the Illinois Muskie Alliance honored in 2008 for boating the largest muskie caught and released in the state that year, a 49-inch fish. It came on Evergreen Lake, Hinshaw's home water.
Muskies Hit In Cold Water
The 'skies they caught that winter day weren't huge, averaging in the mid-30s. But they were getting muskie action while anglers to the north were settling for a trip on hard water to catch a few crappies, perch and walleyes.
What's more, the tactics Hinshaw and his buddy were using work all the way through April at all those places listed above.
Places such as Spring Lake are rare. For one, it has long been the Illinois Department of Natural Resources brood lake for muskies so it's a numbers lake, which has many smaller fish with just a few into the low-40 inches. For another, it is a very shallow, weed-choked, dark-bottomed lake that warms fast.
Action on larger reservoirs and lakes begin to pop when those early warm spring days start stringing together in twos and threes. By April, water temperatures are moving through the spawning range from the upper 40s into the 50s.
Three factors seem critical early in the season, Hinshaw said. One is warm water with all the runoff from melting snow and cold spring rain.
Another is food, naturally. Shad are an important link in the food chain in lower Midwestern reservoirs. They gravitate to warm water this time of year — so, find one and you will find the other.
"Muskies never stray far from the groceries," he said.
The third piece of the puzzle is water clarity.
"I don't know if that's for the fish or for my own peace of mind," he said.
The warmer water can be found in the back of shallow main-lake bays, especially ones on the north side of the lake or reservoir, or where warmer water from creeks empty in. Because dark bottoms hold heat, a muddy bottom is a plus. Wind direction can play a role. A steady breeze can blow warmer surface water into a protected area and spark action.
Standing timber can warm water. The wood transmits the sun's energy to the water around it. The best wood is located on points that reach all the way to deeper water.
Hinshaw casts with an 8-foot, 6-inch St. Croix Tournament Legend series rod with a Calcutta 400 TE reel and 65-pound Power Pro line. What he casts might be a surprise. Those 24 muskies in icy water on the small reservoir were caught on Rat-L-Traps, the 3/4-ounce size! The metallic coating was chewed off by the end of the day. A 1-ounce version will work, too. The loud baits produce early in the year at several places, including Cave Run and Kinkaid, so they're worth a shot no matter where. He knows of a 52-inch fish that came on a rattle bait at Cave Run.
Another favorite of his is Phantom Lure glide baits, which feature soft plastic tails.
Many Lures Work
He modifies Big Game twitch baits by removing the middle of three hooks and replacing the others with 5/0 hooks. They are wood so they dive a couple of feet and rise very slowly.
"It's important to have them hang in their face a little bit. When it's cold, they need a little motivation. We all need a little motivation," he said.
Weighted Suicks, smaller 6-inch Jakes, Shallow Invaders, and Hellhound Gliders also get the call.
Color? Think bright such as firetiger, chartreuse or orange on most reservoirs in the lower Midwest. White bellies seem to trigger action. Try natural colors, too, and let the fish signal what they want.
Casting normally takes up about 75 percent of the day in Hinshaw's boat early on. He'll troll between spots to warm his hands. But the percentage of trolling time might increase on calm days when the sun bakes the surface. Baitfish aredrawn to the upper portion of the water column. Watch for sea gulls diving to snatch fish. Also watch the sonar screen for shad roaming away from shore over the old creek channels or even road beds. It's a good sign if they're balled tightly. The action is a defense mechanism against predators lurking nearby.
Shorelines with rocky rip rap or sand flats are also primary trolling targets. Trolling becomes more consistent after spawn.
Remember, these fish can be extremely shallow even over deep water. The warmer water is in the upper 2- to 3 feet. Hinshaw is talking short lines — sometimes really short.
"Four feet of line with a 12-inch leader. That's pretty short," he said.
He'll use planer boards to control depth as well as move the baits off to the side of the boat to fish very shallow water on structure. His lure choice include LittleErnies, 7-1/2-inch Grammas and small Jakes.
For more information, contact Hinshaw at 309-726-1860  or visit www.evergreenmuskie.com.
For a fine assortment of Fishing tackle, click here.
Ted Takasaki has many fishing achievements, including in March, 2010, when he was named a "Legendary Angler" in the "Fresh Water Fishing Hall of Fame" at Hayward, Wis. He had a victory at the 1993 Mercury Nationals and the 1995 Professional Walleye Trail Top Gun award. He reached the pinnacle of both angling and business when he was named PWT Champion in 1998 and president of Lindy Little Joe, Inc., of Brainerd, Minn., a year later.