Living on the Mississippi River causes me to take it for granted. Even though it is the largest and most underused fishery in America, I do not seek-out its bounty nearly enough. So when Mark Clemens invited my youngest, Parker, and me to go with him for channel catfish on the Great River, I quickly accepted.
Clemens is a nationally known outdoor photographer and avid fisherman. His photos appear in many periodicals each year and one of his photos is the cover shot for my turkey hunting book entitled; "If You Call Them…They Will Come," available at www.mikeroux.com.
Clemens also has a nice deck-boat outfitted for Mississippi River fishing. Parker and I met Clemens at the marina at Fort Madison, Iowa. From there we went south. As we motored, Clemens explained a bit about our plan for the day.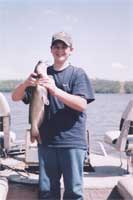 Parker Dietrich takes two hands to hold a really nice Mississippi River channel catfish. (Photos by Mike Roux)
Use Shad, Night Crawlers
It seems as though there is a big natural shad kill on the River late each winter. It has something to do with changing oxygen levels. Clemens and his friends net thousands of shad during this time and cut them up to use as catfish bait all summer. The entrails or "shad guts" as they are called, are the very best part of the shad to use. Clemens also had some night crawlers, based on recent reports of big cats being caught on them, as well.
As we approached our first spot, I learned how important boat position is when setting-up on big catfish. Clemens anchors both ends of the boat so that all lines can be fished off the same side. This keeps things more organized and handier for the three guys manning six rods.
Parker started of with a night crawler, I was using shad guts, and Clemens put on shad sides. This way we could find out which would be the choice of the day for the catfish. The night crawler turned the first fish.
There was huge swirl in about a foot of water as Parker set the hook on a dandy cat. He turned the big cat, but failed get a hook-set.
"Don't worry," Clemens encouraged. "There's plenty more where that came from."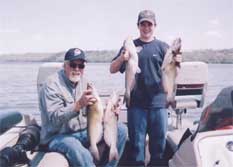 River pro Mark Clemens (left) and his partner Parker are holding lots of great catfish fillets.
It was not long before one of Clemens' rods got hit. He did get his hook set and boated a nice 5-pounder.
A Double On 'Cats'
"That's a good start," I said to my partners. Just then I got hit and so did Parker. Mine was a 2-pound channel cat … Parker's was a bluegill!
We teased Parker mercilessly about his catch. He took it well and reminded us it was not over yet. He proved his point by catching the next two catfish, one of which weighed about 6-pounds.
I missed one, Clemens caught one and then decided we should try a new spot. He took us to a place where a small creek dumped into the big River. It took him a couple of tries to get the boat exactly where he wanted it, but it soon became apparent why. He wanted us to cast right into the creek's channel where it hit the River.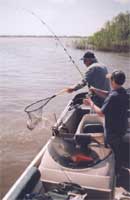 Using a net to get big catfish into the boat is a must on the Great River.
This spot really paid off. All three of us caught quality fish really quickly. Parker then caught a drum and took another load if ribbing. He wasted no time in shutting us up again with a 7-pound catfish!
By late morning, we had a live-well full of fish and all the cleaning we wanted. Clemens put us on good fish and kept us there for the whole trip. He took the time to teach us the ways of the River, and the ways of one of its tastiest residents, the channel catfish.
Shop Sportsman's Guide for a great selection of Fishing Gear.