Weekly news, tips, trivia, fun facts and wild tales from the outdoors
March 30, 2005
Trailers, Trash & Bears
A 500-pound bear that was evidently searching for some Alaska trailer park trash to whet its appetite last week found its way into a family's mobile home and kept the inhabitants at bay in the living room for nearly 40 minutes. In addition, you'll read about the growing hazard that deer pose to motorists, an ambitious program to recruit hunters to our ranks, and how to determine when the fishing is just "too good."
Something Fishy
Folks who reside in bear country know that the best way to keep the critters away is to eliminate the source of food, and not to tempt bruins with tasty and odorous morsels.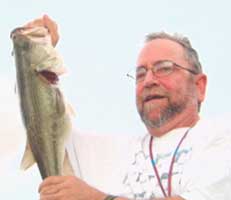 J.R. Absher
Florentino Acosta, who lives with his family in a Switzer Village, Alaska, mobile home park, is convinced it was the lingering smell of a Lenten fish dinner that enticed a big, black bear into his living room last Thursday.
Acosta said he had fallen asleep while watching television when he awoke to find a bear attempting to enter the trailer's main door. His son, Paul, was shouting, and the two tried to hold the door shut to prevent the bruin from entering.
"He overpowered me," the senior Acosta later told the Juneau Empire.
Then, for the next 40 minutes, it was an Acosta vs. Bruin standoff, as the family members chased the bear from one side of the living room to the other, until it finally ran out the door.
"No more fish," Acosta vowed after the incident, though he quickly noted that he is a devout Catholic and probably would not stop eating fish entirely.
"Maybe we'll just cook it differently," he added.
Dangerous Deer
The Insurance Institute for Highway Safety reports there were more than 1.5 million animal/vehicle collisions that caused $1.5 billion in damage in 2004. About 350 crashes proved fatal to drivers or occupants, and several thousand injuries were reported.
In addition, the toll on wildlife may be far greater than most data indicates. Several studies show that as many as 50 percent of all animal/vehicle collisions are never reported because no injuries are sustained and vehicle damage is minimal. In a Wisconsin study, nearly twice as many deer are collected along roadways than are listed in accident reports.
In some suburban areas, the problem is exacerbated because of the explosion in the number of whitetail deer. Adding to the problem is the simple fact that more motorists are driving more miles than ever. In 2001, Americans drove nearly 2.8 billion road miles, 30 percent more than in 1990, the institute reported.
Fishing "Too Good"
Q: When is the fishing too good?
A: When you get caught with 106 fish over the limit!
Last month, Minnesota Conservation Officer Chris Vinton of Detroit Lakes received a Turn-in-Poacher (TIP) call that a group of anglers were fishing for sunfish on Tulaby Lake in northern Becker County and were taking more than 100 fish at a time. (The statewide limit for sunfish is 20 per angler.)
Armed with a vehicle description and other information, Vinton continued checking the lake every other day for several weeks until the group reappeared. Then, joined by another officer, he followed the anglers to a nearby cabin.
After receiving permission to search the cabin, officers found 85 sunfish in buckets and another 61 partially frozen sunfish.
As a result, Jeffrey Allen Meuleners and Donald Peter Gabrelcik were each cited for possessing 53 sunfish over the limit. The citation carries a maximum fine of $1,072, restitution of $265, and a possible penalty of 90 days in jail for each man.
According to a DNR press release, Vinton said, "Both anglers kept commenting that they 'could not stop' and 'the fishing was just too good.'"
Well, they'll stop now. Under terms of the citation, they will each lose their fishing license for three years.
Recruiting New Hunters
Thanks to an ambitious program sponsored by the National Shooting Sports Foundation (NSSF), a total of 25 states have launched programs to recruit new hunters, and more states will be following suit in coming months. The firearms industry trade association recently approved another $500,000 for its 2005 Hunting Heritage Partnership grants, bringing its three-year total allocation to state conservation agencies to nearly $1.5 million.
Administered jointly with the Congressional Sportsmen's Foundation, NSSF's Hunting Heritage Partnership funds projects to develop and enhance hunting opportunities and participation. Past grants helped develop print and radio campaigns, hands-on educational workshops, hunting opportunities for disabled residents, Web-based hunter access mapping systems, and more.
"Knowing that each state faces its own unique challenges, the Hunting Heritage Partnership is designed to help agencies focus directly on issues relating to their states," said Jodi Valenta, NSSF's director of recruitment and retention. "From establishing youth hunting programs to confronting access issues, these grants are helping states increase hunting opportunities across the country."
Quote Of The Week
"Never ask a fisherman why he goes fishing, because he can't tell you. How can he make you understand that it's more than the fish he takes? It's the sound of running water, the smell of the damp rocks, the slap of a beaver's tail, or standing beside the stream at dusk. It's all the memories that crowd in on him of other fishing trips, of campfires that he squatted beside, of friends he used to know. So if he comes home at night with his nose running and has blisters on his heel and one eye swollen shut where a black fly nailed him, don't waste your sympathy on him. Feel sorry for yourself. You married a fisherman."
-Corey Ford (1902-1969)
"How to Live With a Fisherman"
"Trout Tales and Other Angling Stories," 1995
J.R. Absher is a freelance outdoor writer whose articles and columns appear in numerous national publications. Visit his Web sites, The Outdoor Pressroom (www.outdoorpressroom.com and The Outdoor Weblog www.outdoorweblog.com ) to find the latest outdoor news of interest. He offers his unique perspective of the outdoors weekly for sportsmansguide.com. You may contact him at jrabsher@outdoorpressroom.com.