Earl S. from Texas asks about supplemental feeding and deer browse. "I use supplemental feed at feeders on my hunting area all year-round. Does this extra feed allow me to carry more deer on the area, above what natural vegetation can support, without doing damage to native browse?"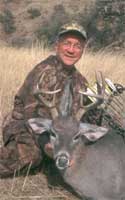 Dr. Dave Samuel
Good question, Earl. There are two points to consider here. First, does the feeder attract more deer to this small area, and next, when they are not eating at the feeder, do they over browse the habitat near the feeder? Let me answer this before moving own. It appears that indeed there is some damage to plants near feeders.
Now to your question. New research shows that supplemental feed does not impact vegetation in the area from deer. Deer eat the vegetation to the same degree with or without supplemental feed. And if deer numbers are high, even with feed, the habitat can be hurt.
For a selection of food plot seed, click here.
For a fine selection of Big Game Hunting gear, click here.
If you have a deer question for Dr. Dave, e-mail your question to Dr. Dave in care of Tom Kacheroski, senior editor of www.sportsmansguide.com's content at tkachero@sportsmansguide.com.
Dr. Dave studied deer for 30 years as a wildlife management professor at West Virginia University. In addition he's been a bowhunter for over 40 years, with deer being his main prey. He's also an outdoor writer and has been with "Bowhunter" magazine for over 30 years.