Here are five more of the top 10 more hiking trails in Florida from author Johnny Molloy's book, "The Hiking Trails of Florida's National Forests, Parks and Preserves."
If you are planning a hiking trip in The Sunshine State, you will want to look over his list of "best hikes."
6. St. Francis Trail
Begin: River Forest End: River Forest
Distance: 7.3-mile loop Trail Condition: Good
Highlights: Human history, boiling spring, numerous forest environments
Hazards: Many turns and unmarked side jeep trails
Trail Connections: None
Season: Late fall through spring
Maps: Ocala National Forest map, national forest handout
Trailhead: From the Seminole Ranger Station in Umatilla, drive north on State Road 19 for 1.5 miles to Lake County Road 42. Turn right on Lake County 42, and head east for 18.1 miles to Forest Road 542. There is a sign for River Forest Group Camp and St. Francis Interpretive Trail. Turn left on Forest Road 542 and follow it for .2 mile to the St. Francis trailhead on your left.
Description: This trail heads down the valley of the St. Johns River through numerous forest environments to the former town of St. Francis. This was once a thriving river town connected to the outside world by steamboat traffic on the St. Johns. Here, timber and citrus were traded for finished goods used by area settlements. The advent of railroad shipping killed the steamboat business, and by 1935, St. Francis was abandoned. Now, you can see evidence of settlement on this hike even as the forest has reclaimed it.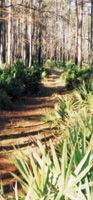 Pine/palmetto woods are part of the St. Francis Trail.
Start your hike by leaving the trailside kiosk and following the blue blazes west. Soon cross a small creek on a palmetto log footbridge. Just past here, the regular undulations in the ground are leftover remnants of row crop cultivation. The trail enters a forest thick with sweetgum and red maple trees. At .4 mile come to the first of many boardwalks that traverse wet areas of the forest.
The forest has changed to a palm-oak hammock. A creek bridge and boardwalk precede the junction with the lower end of the Yellow Loop at mile 1.1. Turn left here, now following yellow blazes, and soon come to another footbridge spanning a small stream. Just upstream of the footbridge is Rattlesnake Spring. The sulfurous water bubbles up from the ground through sand. Check this out up close.
The path passes through wet areas and a boardwalk, then veers to the north to intersect the St. Francis Trail at mile 1.6. Leave the upper end of the Yellow Loop and turn left, again following the blue blazes. The pine forest is much more open here. The trail flirts with jeep trails — stay with the blue blazes as it passes a couple of boardwalks.
Come to an old logging railroad grade at mile 2.1. The way is arrow straight and offers views far ahead. It's hard to imagine a train coming through here nowadays. Off to your left, on the far side of the small canal is a sand pine scrub woodland. At mile 2.6, the trail once again skirts and eventually crosses a jeep road. Meander north through open slash pine flatwoods and low palmetto. The trees are widely spaced and the sun can blare down. Briefly traverse an oak stand while crossing a stream at mile 3.3, then enter a denser stand of young pines.
Emerge onto a jeep road at mile 3.6. Turn right here. This is the old Paisley-St. Francis Wagon Road. The Alexander Springs Wilderness is off to your left. Stay forward, following the blue blazes. This jeep road leads straight a short ways to the St. Johns River and the site of St. Francis. Before you head to the river and look for signs of civilization, watch on the right for the blue blazes leaving the road at mile 4.0. After visiting the townsite, backtrack away from the river and look for the blue blazes entering an oak-palm hammock.
Soon, watch on your left for a noisy water spigot emitting water beneath a live oak. The spigot has been stuck into a sulfur spring and continually flows. The wide path heads south along the St. Francis Dead River and splits at mile 4.4. To your left, a side trail leads a short distance down to the water. To your right, the blue blazed St. Francis Trail now follows an old dike erected to flood the land for rice cultivation. The dike forms a division: there is a swamp forest to your left and pine woods to your right. Follow this dike south until it comes to a stream meander at mile 4.9. Span the stream on a log footbridge with wire hand supports, and briefly enter pinewoods before returning to the swamp forest environment, which has wet footing here.
Skirt another pine plantation at mile 5.6. Cross another boardwalk, then come to a trail junction. The upper Yellow Loop is just a few steps to your right. Stay left with the blue blazes, headed toward River Forest, still in a palm-oak hammock. Cross a small stream on a plank bridge then intersect the lower Yellow Loop at mile 6.2. You are now backtracking. Keep forward, retracing your steps 1.1 miles to the trailhead, completing the loop at mile 7.3.
7. Osceola National Forest
Florida Trail, Olustee Battlefield to Turkey Run 
Begin: Olustee Battlefield End: Turkey Run
Distance: 10.5 miles Trail Condition: Good
Highlights: Civil War battle site, trail shelter
Hazards: None
Trail Connections: Florida Trail, Turkey Run to Deep Creek, Ocean Pond Connector Trail
Season: Spring through fall
Maps: Osceola National Forest map
Trailhead: From the Osceola Ranger Station, 12 miles east on Lake City on U.S. 90, keep east on 90 for 3.2 miles past the ranger station to the Olustee Battlefield. Turn left into the battlefield area and turn left again into a parking area just past the railroad tracks on your left.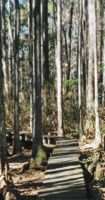 A boardwalk traverses gum swamps in Osceloa National Forest on the Florida Trail.
Description: This section of the Florida Trail is well marked, groomed and maintained. Formerly known as the Osceola Trail, it starts out at the site of Florida's largest Civil War battle and heads into attractive pine flatwoods, passing occasional cypress depressions. It then keeps north and west, eventually coming to a welcome trail shelter on the banks of a stream. This section of the Florida Trail ends shortly after the shelter, at the Turkey Run trailhead.
Leave the Olustee parking area and head north, crossing a boardwalk and passing through the Olustee Battlefield site on a gravel road. In February, 1864, Union forces had taken Jacksonville and headed west to cut off Confederacy bound food supplies from central Florida. Southern forces picked Olustee as a good defensive place, with Ocean Pond on one side and a deep swamp on the other. The opposing armies battled beneath the towering pines until dark and the Union was forced to retreat easterly to Jacksonville.
Today, the Florida Trail winds beneath tall, longleaf pines with a mown grassy understory. This spot, first memorialized in 1913 by the Florida legislature, is used for the battle reenactment held every February. Beyond the battlefield site, palmetto grows under the longleafs. Pass through a clearing and a wet area overlain with boardwalks then come to Forest Road 208 at .9 mile. Turn left on Forest Road 208 and follow it for .4 mile — the Florida Trail then reenters the woods on road right. The forest here is young and offers little shade.
Come to a boardwalk at mile 1.4 and re-enter pine flatwoods, swinging around a cypress head on your left. Pass another cypress head at mile 2.0. Keep through open flatwoods until a dense pineland is reached just before coming to Cobb Hunt Camp at mile 3.4. Meander through the camp and intersect a logging berm at mile 3.6. Turn right. The berms of these logging tracks were raised so trains could get through the often-soggy forests.
Laurel oak, pine and bay complement the cypress trees. A boardwalk traverses the wettest section. Leave the berm at mile 4.1, making a sharp left and come to Forest Road 207A. Cross the road and enter a timbered section of forest, coming back to shady woods at mile 4.4. Swing around a marsh and a dug pond, then come to County Road 250A at mile 5.1. Take a few steps to the right along the road and step back into the woods.
Come to a trail junction at mile 5.4. A blue blazed path leads left one mile to Ocean Pond Campground. Keep northwesterly through pine, bay and palmetto woods, soon coming to Forest Road 268, which also leads to Ocean Pond Campground. Keep forward and cross a boardwalk over a cypress head. There are numerous bay trees in this area. Emerge onto Forest Road 241 at mile 6.2. Turn right along the forest road to County Road 250A. Turn left here and walk over the paved road to cross Interstate-10, where the cars below are moving startlingly fast. Leave the high-speed world behind at the bottom of the bridge and dive left into the woods at mile 6.6. Soon cross Forest Road 263B and begin a long stretch of open flatwoods. Come to a pine plantation at mile 7.7, and wind among the dense rows of shade bearing evergreens, emerging onto County Road 250A at mile 8.2. While crossing the road, you also bridge a creek below you.
Pass through a gate and parallel the stream, soon turning away from the water and resuming a westerly course through pine flatwoods. Watch for a pond off to your left at mile 8.6. Keep northwest, coming to a footbridge over a creek and turn sharply right. Dead ahead is a trail shelter, at mile 9.3. This shelter has wood board floor, is open on all sides, and is covered with a tin roof supported by beams at the corners. A metal fire grate is nearby. Water can be obtained from the creek below and a vault toilet lies a short distance away.
To continue on the Florida Trail, backtrack just a short distance, returning to the Florida Trail, and continue northwesterly through a pine plantation, crossing another stream and emerge onto County Road 250 and the Turkey Run trailhead at mile 9.8. It is 10.4 miles west on the Florida Trail to Deep Creek trailhead and the end of the FT through the Osceola National Forest.
8. Apalachicola National Forest
Florida Trail, Medart to Bradwell Bay
Begin: Medart End: Bradwell Bay
Distance: 12.7 miles Trail Condition: Good
Highlights: Sopchoppy River walk, old growth magnolias, solitude
Hazards: steep, sandy ravines
Trail Connections: Florida Trail, Bradwell Bay to Porter Lake
Season: Fall through spring
Maps: Apalachicola National Forest map
Trailhead: From the Wakulla County courthouse in Crawfordville, drive 8.2 miles south on U.S. 319 to the Florida Trail Medart trailhead. It will be on your right and there is a parking area here.
Description: This hike starts at the southeast terminus of the Florida Trail in the Apalachicola National Forest. Head northwest from U.S. 319 and traverse a rarely walked section of the FT, walking mostly footpaths over rolling pine woods, coming to a lush woodland with old growth magnolias and other trees.
Drop down to the Sopchoppy River valley and enjoy some of the best of the Florida Trail. Here the path meanders beneath live oaks alongside the blackwater stream, where huge cypress trees with oddly shaped knees line the waterway. Side streams cut deep gullies, making for a lot of ups and downs. Emerge onto a forest road and shortly come to Bradwell Bay Wilderness.
Start this segment of the Florida Trail by leaving U.S. 319 behind, passing a trail register and immediately entering an eye pleasing forest of pine, live oak and laurel oak. At .3 mile, come to a long and winding boardwalk over a low area of bay, titi and cypress. Continue on a footpath in a more open forest. Come alongside, then cross Forest Road 356 at 1.0 mile. Drop down off a hill, nearing a thicket before turning back toward the forest road.
At mile 1.4, come to a longleaf plantation, dropping down to a titi thicket. The next thicket, with a wide stream beneath the dark canopy, is crossed at mile 1.9 on a plank bridge. Turn right and walk the margin dividing the stream just crossed and pine woods. The land here is low sand hills of pine and turkey oak broken by titi thickets. Occasionally, the trail will take forest roads for short sections. The faint footbed testifies to the infrequent use of the trail.
Step over a blackwater stream at mile 3.9. Turn left immediately past this crossing into a young dense longleaf plantation, cross a jeep track and enter taller pines. At mile 4.7, come to a turkey oak stand atop a hill. Drop down to cross Forest Road 321 at mile 5.3. The next section makes a lot of twists and turns — pay close attention here. First, cross Forest Road 321C at mile 5.5, staying in thick woods, only to soon pass under a powerline.
Come back to FR 321C to span a stream on a low water bridge. Immediately past the bridge, enter the forest to the right and settle back down to woods hiking. Pass through a pine plantation before coming to a mature pineland at mile 6.6. This area is favored by red cockaded woodpeckers, as is evidenced by numerous pines circled with white paint stripes, indicating woodpecker holes bored into trees that serve as nests.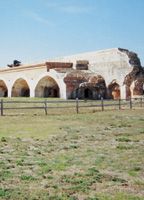 A part of Fort Pickens located near the northern end of The Florida Trail.
At mile 7.2, come to an area with many live oaks and laurel oaks with a brushy understory. This leads into the low area with many big trees. Of special note are the old growth sweetbay magnolia trees. Commonly known as bay trees or swamp magnolia, these trees keep their leaves year-round. They extend from South Florida northward to Massachusetts and westward to Texas. Look around for other large trees, such as red maple and tulip poplars. Stay in lush woods, mostly deciduous trees, before coming to one last section of big magnolias, then intersect Forest Road 365 at mile 8.1. Cross the road and continue northwest through shady woods.
Drop down to the banks of the Sopchoppy River, and head upstream a short distance, coming to Forest Road 346 at mile 8.6. Turn left on the sandy vehicle road and immediately span the Sopchoppy on a wooden bridge. Follow the forest road for .2 mile and the FT reenters the woods on the right along the west bank of the Sopchoppy River. This section of the Florida Trail was once known as the Apalachicola Trail.
Immediately cross under a powerline, then cross a small creek on a plank bridge at mile 9.1. Keep north through rich woods of water oak, sweetgum, red maple and pine. Cross a feeder stream on a footbridge and swing around an inholding, coming to the banks of the Sopchoppy River at 9.4 miles. The trail is 30 feet above the river. Observe the huge cypress trees with their strange knees along the river. Soon come to your first roller coaster ride down and then up a side stream gully. Most of the gullies flow only during rainy periods.
At times the path turns away from the bluff instead of working around sharp bends in the Sopchoppy. The footbed can be narrow. Sand live oak, palmetto, live oak and holly border the river and trail. Bluff heights range between 20 feet and 50 feet above the river. Continue to undulate, crossing cypress and bamboo-filled ravines.
Leave the riverside at mile 10.1, pass through a titi/bay forest, and climb onto pine flatwoods. Soon pick up a jeep track on high ground. Turkey oaks grow here. Veer right, away from the jeep track at mile 10.8, and drop steeply to Monkey Creek. Span this large stream on a footbridge. Rise up to a pine plantation and walk among the rows of evergreens. Come to the riverbank at mile 11.2, once more enjoying the superlative beauty of the Sopchoppy River. Once more, climb up and down the steep ravines, crossing a perennial feeder stream in .2 mile. Swamps occasionally appear; the trail effectively straddles the bluff between the Sopchoppy on the right and the swamps on the left.
At times the path drops right alongside the coffee-colored waters. Pass another perennial stream at mile 12.4. Soon, the trail will circumvent a wide swamp. Cross a series of boardwalk bridges before climbing to a dry open area, which is the official Sopchoppy River campsite. Past the camping area, pick up a wide trail that leads to the Forest Road 329. A bridge over the Sopchoppy is just to the right. The Florida Trail, however, turns left and follows FR 329 for .2 mile to the Bradwell Bay Wilderness trailhead, ending this segment. From here, it is 19.0 miles to Porter Lake on the FT.
9. Sinkhole Trail
Begin: Leon Sinks Geological Area End: Natural Bridge
Distance: 2.3 miles Trail Condition: Good
Highlights: Watery sinkholes, hills, interpretive information
Hazards: None
Trail Connections: Crossover Trail, Gum Swamp Trail
Season: Fall through spring
Maps: National forest handout
Trailhead: From the junction of State Road 61 and U.S. 319 just south of Tallahassee, head south on U.S. 319 for 4 miles to the signed turn for Leon Sinks Geological Area, on your right.
Description: This trail is one of three paths that wind through the Leon Sinks Geological Area. This trail passes by numerous sinkholes, some dry and others with clear, turquoise water. These sinkholes, hidden in hills, have impressive vegetation. Every twist and turn brings something new. The whole area lies within the Woodville karst plain, which has not only sinkholes, but caverns, natural bridges, ponds and underwater caves. Use this trail in combination with the Crossover Trail for a 3.1-mile loop, or walk the Gum Swamp Trail, too, for a 3.9-mile loop.
Leave the parking area and follow the blue blazes, soon coming to a trail junction, turn right and walk through turkey oak/longleaf pine ecosystem atop a hill. Soon drop off the hill and come to Cone Sink. Notice the more lush vegetation in the moister sink environment. Next comes Turner Sink, and it has a little water. Come to the side trail for Back Sink, past Palmetto Sink. Notice the large pine by Back Sink.
Keep through a rich woods before dropping down to Hammock Sink at .5 mile. Observe the clear, blue water. Cave divers entering the waters have mapped out the immense underwater cave system here. Leave this attractive setting and pass Tiny Sink to start climbing onto a big hill, with views in all directions. At the top of the hill lies Dismal Sink. Look 130 feet down to the water and listen to the dripping. This is the deepest sink in the system.
The well-marked path passes jeep roads, but is always clearly blazed. Swing by Big Eight Sink, and past this, come to well named Magnolia Sink — it has some impressive tree specimens in it. Also look for the odd standing limestone rock. Emerge onto the much less vegetated longleaf/wiregrass and climb another hill, passing Black Sink.
At mile 2.1, the trail drops down onto Lost Stream Sink. Fisher Creek, the lost stream in question here, flows underground at this point. Take a boardwalk over the sink and climb up and over Natural Bridge, which comes between Fisher Creek Rise and Fisher Creek Sink. This is also the junction of the Crossover Trail, at mile 2.3. To make a loop back to the parking area, turn left on the Crossover Trail and follow it past Johnson Sink and over Center Swamp on a footbridge. Notice the large gum trees. Intersect the Black Gum Trail at mile 2.8 and follow it left for a short distance past Gopher Hole. Complete the loop by returning to the parking area at mile 3.1.
10. Gulf Islands National Seashore
Florida Trail, Gulf Islands National Seashore West
Begin: Pensacola Beach End: Fort Pickens
Distance: 6.2 miles Trail Condition: Good
Highlights: Sugar white sands, historic fort, northwest terminus of entire Florida Trail
Hazards: Sun and elements, bicyclers
Trail Connections: None
Season: Year-round
Maps: No maps available
Trailhead: From the town of Pensacola, head south on U.S. 98 across Pensacola Bay to Gulf Breeze. From Gulf Breeze, head south on Florida 399 to Fort Pickens Road. Turn right on Fort Pickens Road and follow it for 2.3 miles to the second Santa Rosa County beach access area. This large beach access area has parking, picnic shelters and lifeguards. Park here and head west on the beach to enter Gulf Islands National Seashore and the official section of the Florida National Scenic Trail. The west terminus of the trail, at the actual Fort Pickens, is 6.3 miles beyond the national seashore entrance on Fort Pickens Road.
Description: This section of the Florida Trail starts as a beach walk along the western end of Santa Rosa Island and ends at Fort Pickens, erected in 1834. And this ending is not any ordinary ending of the Florida Trail; it is THE ending of the entire trail that extends from the Big Cypress National Preserve in South Florida.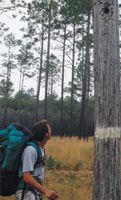 Woodpecker nests in the Apalachicola National Forest are marked with white rings.
This particular section does make a grand finale, passing along one of the state's best natural beaches, only to head inland to reach historic Fort Pickens, which underwent many transformations, from brick walls withstanding cannonballs to concrete batteries hastily built in World War II. Along the way it was occupied by the Confederate Army and housed the famous Indian Geronimo.
Leave the parking area of the Santa Rosa County beach access facility and head west along the beach, walking headlong onto a barrier island. Occasional upright pieces of PVC pipe tipped in orange mark the trail. Come to the Gulf Islands National Seashore boundary and proceed along the beach. At mile 1.4, come to a beach access area. The lack of dunes here makes a boardwalk unnecessary.
Low dunes temporarily resume at mile 2.1. Pass another beach access area at mile 2.7. The shoreline flattens again, then gives way to some big dunes covered in sea oats and wax myrtle at mile 4.6. Notice how the wind sculpts the wax myrtle. You are now at Langdon Beach. Here is a boardwalk, bathrooms and a picnic area with water. Leave the beach and cross the boardwalk, then cross Fort Pickens Road. Stay with the orange blazes on the east side of Battery Langdon and pick up the gravel foot and bicycle path near the picnic shelter.
The Florida Trail now turns west in a sand pine scrub forest, with occasional marsh. Notice the metal ruins here and there from the time this was a military installation. Watch out for bicyclists on the path. Pass over a plank bridge at mile 5.0. Soon come to Loop E of the Fort Pickens campground, and pass right through the camping area. Leave the camping area to resume a sand and gravel path that skirts the edge of Battery Worth. As you look left, the steps leading up the battery are reminiscent of the Mayan ruins of Mexico.
Stay on a raised railroad bed, crossing an arched bridge over a marsh. Soon come to Fort Pickens and the terminus of the Florida Trail at mile 6.2. To your left is Fort Pickens, certainly deserving of a tour. And Fort Pickens is a place deserving to be the site of the terminus of the Florida Trail.
To order the author's book, "The Hiking Trails of Florida's National Forests, Parks and Preserves," please visit www.upf.com or www.johnnymolloy.com.
Johnny Molloy is an outdoor writer based in Tennessee. "The Hiking Trails of Florida's National Forests, Parks and Preserves" is Johnny' 12th book. Expect many more to come as Johnny continues to explore the outdoors of the United State and beyond. For more information about Johnny, please visit www.johnnymolloy.com.