Now that for most of us the hunting season is over, or for others will soon be over, we can all sit back and enjoy the fond memories of our fall hunts.
If you are a waterfowl hunter like me, it seemed as though there was not enough birds to fulfill these memories. However, on the days I did well, not only was it enjoyable for myself, my hunting buddies also found themselves having a good time shooting at ducks and geese. One particular hunting companion, my dog Bumper, surely enjoyed his trip to North Dakota.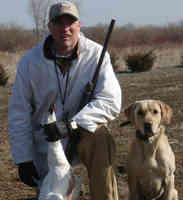 Jason Dommeyer
My success there the second weekend of the season made up for a miserable opener in my home state of Minnesota. For the Minnesota opener, my two buddies and myself shot eight ducks total, seeing only about a total of three- to four-dozen birds! Now I know that the fog did not help our situation, but it was still very heartbreaking to only shoot nine shells the entire weekend! In contrast, the next weekend in North Dakota, in four days of hunting, I was fortunate enough to shoot nine boxes, which made for some fond memories for both myself and my dog.
Obviously, Bumper got a chance to retrieve almost an entire season's worth of birds in North Dakota, which involved a pretty good four-day workout that consisted of a variety of retrieves both on land and in water. Many of the ducks and geese he retrieved were on birds he did not mark, or on what is known as blind retrieves. This type of retrieve takes a great deal of respect and confidence between the handler and dog. Once this is mastered, however, it can mean the difference between bringing home your limit of birds, or only a portion of it.
Start With Force Fetched Retrieves
When I begin training "blinds," I always start with basic on-leash obedience, but more importantly, the force fetched retrieve. This is a retrieve that guarantees the handler a delivery to hand and is based on three commands, "fetch," "hold" and "drop." It is commonly referred to as a "conditioned retrieve," which I explain by saying, no matter what the conditions are, your dog understands that it has to go out, get the object, come back with it in timely fashion, and either stand or sit next to you not dropping the object. However, when the handler gives the release command, the dog should immediately let go of whatever it is that is being retrieved. Just because the dog will not drop it during the retrieve, does not mean that it should be possessive of it at the end of the retrieve. "Drop," "give" or "release," means let go! This is NOT a game of tug-of-war!
Blind retrieves are simply an extension of the forced retrieve. When lining a dog in a direction of a downed bird that is not known to the dog, I will give the command, "back." This can be thought of the same way you would tell a dog to "fetch." Remember, this is a command, not a request. The dog must respect this and start running in the direction pointed waiting for either a whistle blast (which means sit and look at me), or expect to find something to bring back. During this retrieve, you want to eliminate the dog's instinct to "hunt" while making the retrieve. This is a lot easier said than done, however.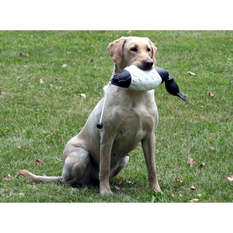 A forced fetch retrieve will guarantee
delivery. Whether you are throwing
dummies in the backyard,
or shooting pheasants at a game farm,
this conditioned retrieve with get you
a solid finished retrieve.
There are three drills that I use as my foundation and teach to any dog that trains for blind retrieves. These drills are the T-pattern, memory blind and the wagon wheel. Each of these drills has a specific purpose, and if each are mastered can give any retriever enough skill and confidence to make blind retrieves.
Over the next couple months, I will describe each one these drills in detail in three separate articles. Each article will give any gundog owner, enough information to begin the process of training blind retrieves.
Please keep in mind that these drills take a great deal of repetition and are not trained in just a couple weeks.
In my next article, I will give detailed information on getting the T-pattern mastered. Please check back in the next few weeks if you would like get started turning your retriever into the hunting dog of a lifetime.
Shop The Sportsman's Guide for a great selection of Dog Supplies/Training Aids!
Jason Dommeyer has a lifetime of hunting experience and more than 17 years experience as a dog trainer. He has turned many pets into expert hunting dogs at Cannon River Kennels (http://www.cannonriverkennels.com/) In addition to training hundreds of hunting companions, he has trained dogs for premier pheasant hunting lodges in South Dakota along with duck hunting lodges in Mississippi and Mexico. His experience also includes both hunting and guiding for upland and waterfowl game from Canada to South America. For more information on training your dog with Cannon River Kennels, call 507-663-6143 or visit (http://www.cannonriverkennels.com/) He provides dog training/handling tips.