There is nothing more exciting to an upland bird hunter than watching his dog gracefully quartering a field on a fall afternoon.
As the dog is covering ground, he all of a sudden stops on a dime into the wind, locking up on point! No matter what breed of pointer a hunter owns, it is always a feeling of excitement for any gundog owner. Now it is up to the shotgunner to fulfill his end of the bargain, and get into position to bag the bird and reward the dog for his efforts.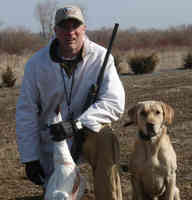 Jason Dommeyer
This scenario sounds perfect, but what happens if your dog just can't wait for you to get there and busts in the cover and out goes the bird? Now you may have a missed an opportunity and maybe the only bird of the day. Accomplishing this picture-perfect setting is a combination of your dog's genetics, and training on the part of the owner.
The first thing I always tell potential dog buyers is to purchase a puppy with proven bloodlines. Make sure that your puppy has time-tested abilities. In the case of a pointing dog, seeing either the sire or dam in action, or having hunting titles in the pedigree, will help ensure that your puppy will have the potential to be a nice hunting dog.
Start Training Immediately
After deciding on a breeder and getting your pup home, the training should start immediately. Now I am not talking about a real formal type of training, but more along the lines of getting the dog socialized, teaching him his name, and beginning to teach the dog to "come."
A great way to accomplish all of this is to begin a retrieving game. Find something the dog likes and tease him with it. Dummies, toys, or even an old sock tied in knots will work! Play some keep away, or a little tug of war with it and toss it out. If he is enthused about the object, he should go grab it and bring it back. The key here is not to over do it. Stop when the dog still wants more.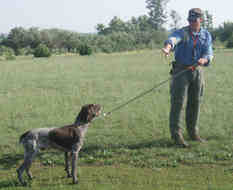 Using a check cord as your pup gets older will ensure recall during fun retrieves!
After a few days of this game, you can now get your young dog introduced to a light check cord. Using an old clothesline and attaching a snap swivel, you can now get him used to playing the "fetch" game with the cord dragging behind him. If he starts to get possessive with his fun object, the cord will enable you to bring him back to you using his name, and the "come" command. Introduction to a check cord at this young age will play a huge role in more formal pointing training later on.
Let's say your pup is now 3- or 4 months old, this also is a good age for introducing a wing tied to the end of a string. Use an old fishing rod and some fishing line, and tie a pheasant or pigeon wing on the end of it. Tease your dog with the wing and let him chase it around. The key to this is to not allow your dog to catch to wing. Once he stops and points it, give it to him and maybe play a little tug of war. You can even begin a "whoa" command when he does point. By doing this, you are teaching the dog that it can not catch the wing, and only when he stops and points it, will he be rewarded.
Please read more in Part 2.
For a fine selection of Dog Supplies, click here.
Jason Dommeyer has a lifetime of hunting experience and 15 years experience as a dog trainer. He has turned many pets into expert hunting dogs at Cannon River Kennels (http://www.cannonriverkennels.com/) In addition to training hundreds of hunting companions, he has trained dogs for premier pheasant hunting lodges in South Dakota along with duck hunting lodges in Mississippi and Mexico. His experience also includes both hunting and guiding for upland and waterfowl game from Canada to South America. For more information on training your dog with Cannon River Kennels, call 507-663-6143 or visit (http://www.cannonriverkennels.com/) He provides dog training tips twice a month.