Eddie Salter is a country boy from Alabama, a fun-loving man with a thick accent and yen for telling stories.
And, trust me, Eddie can spin a good yarn.
At age 50 and counting, Salter, a two-time world turkey calling champion, likes to wax nostalgic about the "old" days — that is, his first days in the turkey woods near his Alabama home.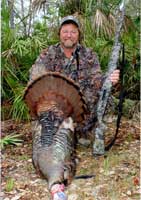 "I've been hunting turkeys for 40 years," he said. "I remember hunting them when I was a young boy when the sport was pretty much isolated because there weren't many birds. In the last 20 years, turkey hunting has come a long ways. Thanks to the conservation efforts of the National Wild Turkey Federation and state wildlife agencies, we have more turkeys now than I ever imagined."
Salter: A Champion Caller
Indeed, Eddie grew up in an era in which wild turkey hunting wasn't the wildly popular sport that it is today, especially in spring. But he knew the sport was so addicting that it would take off once the wild turkey population came around.
"For me, turkey hunting revolves around calling," he said. "There's no greater pleasure than mimicking the sounds of a hen and calling in a boss tom. That's what motivates me."
Eddie's wild turkey resume would make any die-hard turkey hunter envious. Not only is he a former world champion competitive caller, but he has also won dozens of other calling contests across North America. What's more, he has hunted the wily tom in 35 states and harvested five different wild turkey subspecies — an achievement about which few others can boast.
Today, Eddie is one of Hunter's Specialties resident turkey hunting scholars. Over the last nine years with the company, he's helped it develop its turkey game calls and taught scores of youngsters how to use them.
I asked Eddie to divulge a few turkey hunting trade secrets — particularly the most common mistakes novices make — in hopes of making your turkey hunting experience one to remember.
New Hunters Call Too Much
Eddie believes that some hunters — especially new hunters — call far too much. He recommends letting nature take its course.
"It's fun to hear a turkey gobble back to your call," he said. "But a lot of times when the bird gobbles, flies down from the tree and starts coming in your general direction, it's time to stop calling. Let the bird come into you."
Calling too much, he says, sounds unnatural to most turkeys. In many instances, he said, they may be ready to commit to your position, but get spooked by overzealous calling.
"This is a common mistake, because, let's face it, it's fun to call," Eddie said. "New hunters in particular need to learn patience. If the bird stops well short of your position, or starts to move in another direction, by all means try calling him back. But remember not to call too much."
Another common mistake is that hunters go into the woods with only one type of call. Eddie likens that mistake to the "angler who has a big tackle box, but insists on using only one lure."
Have Many Calls With You
Even if you haven't mastered a fancy calling repertoire for all call types (slate, box, mouth), Eddie says to learn how to use one note — the basic cluck — for each.
"You are far better off with having a variety of calls in your vest," he said. "Some days a box call works better. Some days a slate call works better. It may be that you can get the bird close with a box call, but not close enough for a good shot. In that case, one cluck with a mouth call may be the ticket. Like I always say to kids, you need to practice your calling, but you don't have to be a champion caller to successfully hunt turkeys. That's a myth."
Another mistake is that many hunters don't pattern their shotguns before they go afield, causing them to miss routine shots.
"Some guys take a gun that they've been shooting doves with, and try to shoot turkeys at 40 yards, and the shot pattern just blows up," he said. "You need to know your pattern, and that includes using different shot sizes from different distances."
Choke Tubes Are Popular
More and more hunters nowadays use specially made turkey hunting choke tubes, which helps keep the shot pattern more concentrated over a greater distance. According to Eddie, Hunter's Specialties manufacturers a choke called the Undertaker that "shoots approximately 90 percent of the pellets into the target at about 40 yards."
"When I'm aiming at a turkey, I pick out the place where the turkey's head meets the feathers," he said. "That's the whole head and neck and part of the breast. To practice, stack up two pop cans on top of each other to create the desired pattern — about 12 inches tall and 3 inches wide. You want to get as many pellets into that small area as possible."
Above all, Eddie says, novice hunters should learn as much as they can about turkey behavior and hunting tactics before going afield. That includes calling, decoy placement and more.
"There's all sorts of books, DVDs and videos on turkey hunting, and studying them is a good way to learn," he said. "I tell people to join their local turkey federation chapter. There are a lot of members out there who are willing to teach a new dog some old tricks."
For more information about Hunter's Specialties turkey hunting equipment, see www.hunterspec.com.
Make sure you check out the latest turkey hunting equipment and accessories when you visit Sportsman's Guide.
Editor's Note: Babe has shared his love of the outdoors with TV viewers for more than 25 years. Babe will share his tips and outdoor adventures weekly on sportsmansguide.com. In 1984, Babe's "Good Fishing" program debuted and later his "Outdoor Secrets" show became popular with hunting enthusiasts. Babe's programs appear on the Outdoor Life Network, WGN, Fox Sports Net, Fox College Sports, The Men's Channel, Sportsman's Channel, Great American Country, WILD TV, and Comcast. Babe also writes hunting, fishing and conservation columns that are carried by up to 350 newspapers each week. Winkelman sponsors include Chevrolet, Miller High Life, Johnsonville Brats, Crestliner Boats, St. Croix Rods, Browning, Hunter's Specialties, Nikon, Minn Kota, Optima Batteries, Mathews, Honda, and many more.