I'm a pretty decent turkey hunter, with good instincts on where to set up, how to call and when to shoot. Do I want to be a great turkey hunter? Absolutely!
And God willing, someday I will be.
The question is, how do you make that happen? The answer has two parts:
1. Hunt turkeys. The best way to become an expert at anything is to get out there and do it, learn from your successes and failures, and push yourself to learn new strategies.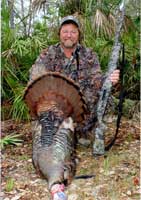 Babe Winkelman
2. Listen to great turkey hunters. The best in the business are eager to share their wisdom with others. It's part of what makes the hunting community so special.
Since many hunters don't personally know a bona fide turkey guru, the good folks at Hunters Specialties (who make every turkey hunting call and accessory under the sun) have a pro-staff beyond compare. And their years of experience are available in on-line articles at www.hunterspec.com.
As I prepare for two upcoming gobbler adventures in the Midwest, I read up on some of the articles to brush up on the basics and get new insights. While doing so, I thought you might appreciate it if I jotted down a bunch of these pointers to make you more successful this season as well.
The men responsible for this information are Hunter's Specialties pro staff members Alex Rutledge, Matt Morrett, and Eddie Salter. Alex is an amazingly talented turkey hunter from Missouri. Matt, from Pennsylvania, has won numerous national and regional calling championships. And Eddie is a world turkey-calling champion from Alabama. If any three men can help guys like you and me put more longbeards on the ground, it's these three! Here is what they recommend.
Scouting And Preparation
Buy, rent, or borrow all the turkey hunting DVDs you can get your hands on. Most feature excellent hunters and you literally get to accompany them on their hunt and learn how they call, where they set up, and how they overcome challenges to get birds within range. Plus it's just darned fun to watch!
When scouting, look for tracks, droppings, feathers, scratchings, strutting drag marks, and dusting areas to determine where birds are spending a lot of their time.
Water sources are turkey magnets. Turkeys must hydrate routinely, especially during breeding season.
During pre-season scouting, only use locator calls (crow, owl, etc.) to locate birds. The best place to use them is on high ground. This will also give you a good vantage point to glass for birds. You only want to use sexual hen calls when you are HUNTING.
If a storm rolls in when scouting, listen for birds after a thunder clap. They love to gobble at thunder and will give away their location.
Learn what the favorite foods are for turkeys in your region. If you find the food sources, you'll find the birds.
Pay close attention to your camo. If even a little of your white undershirt is showing, for example, it could cost you a bird. Plus showing white can be dangerous since another hunter might mistake it for the white on a turkey's head.
When sitting, hide the black soles of your boots under leaves. Two black blobs might look out of place and they can give off a shine.
Make sure your gun or bow is well camouflaged, without any shiny surfaces. 
Wear a camo facemask. Or, for improved vision, use H.S. camo makeup instead of a facemask.
Always try to set up with the sun behind your back. It will give you better vision and keep those birds squinting to give you an advantage. 
The ideal place to sit is against a tree that's wider than you are, to break up your outline.
Having brush behind you is great when calling, since the Tom might think that hen is concealed behind you and come in close to investigate.
Calling Tips
Learn to control the volume of your calling. Calling too loudly to a bird that's relatively close will allow him to pinpoint your exact location. Soft calling, redirected by cupping your hands in various directions, will make you sound farther away and force the bird to do some searching to pinpoint the source.
Call with EMOTION. You want to sound like a hen that's begging to be with that big boy.
Call with EXCITEMENT. Sometimes short, fast yelps really get that Tom going. Also try a cluck preceding a short, fast yelp series.
When a turkey is definitely looking for you, call softly and sparingly. The closer he gets, the less you should call.
Often, when the turkey is inside of 100 yards and searching, it's best to not call at all and let gobbler get closer to find his date.
Carry an assortment of calls and learn how to use them properly. They include push-button calls (the easiest to master), box calls (the second easiest), friction calls (somewhat more difficult to use), and finally diaphragm calls (the most challenging, but extremely useful since the call is in your mouth and leaves your hands free for shooting).
Have an assortment of "locator" calls in your vest. Crow, owl, hawk, and coyote howler calls are top picks. They're musts for getting a Tom to shock-gobble and give away his location.
Switch between several different calls when trying to get a Tom fired up. One might not get him cranked, but the sound of another could be just what he wants to hear.
Challenging Situations
If a turkey cuts your call with a gobble before you finish the calling sequence, he's a very killable bird. If he continues to do so, but won't close the distance, it's a good idea to stop calling, sneak to another position (even if it means getting around to the other side of the Tom), and try him from that position. He's obviously hot, but for whatever reason he doesn't want to come to your initial stand. Maybe he got his butt kicked there. Changing locations can turn a hung-up bird into dinner.
 If a Tom is in a set pattern, where he roosts in the same area every night and flies down to his harem every morning and spends the day with the girls, you have to screw up his pattern. Otherwise you'll probably never call him off those hens. So, wait until he roosts, then bust him (and hopefully his hens) out of there. Scatter the flock. The next morning, he'll be itching to find those hens again — and you'll pretend you're one of them!
Some turkeys are slow walkers and slow talkers. They're tentative, maybe because they're not the dominant bird and don't want to rush into anything and get their clock cleaned by Mr. Big. Patience is the key to working these slow-motion birds. In addition to calling them, also work in some scratching sounds to get them into a higher gear.
I hope these tips help you this season. And on behalf of all mere mortal turkey hunters out there like me, I'd like to extend a hearty "thank you" to Alex, Matt, Eddie, and the entire H.S. team for sharing their secrets.
Good Hunting!
Shop Sportsman's Guide NOW for a great selection of Turkey Hunting Gear!